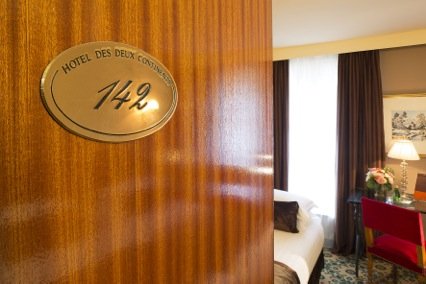 New Year's Eve in Paris and at Hotel des 2 Continents, Saint-Germain-des-Prés
Why spending the New Year's Eve in Paris and at Hotel des 2 Continents? Because the transition to the New Year must be celebrated and the City of Lights is THE PLACE TO BE on December 31st! Indeed, both French and tourists are planning to go party on the most beautiful avenue in the world and start the countdown with enthusiasm!
Where to celebrate the new year in Paris? Of course, the first idea is to go to the Champs Elysees and scream "4 – 3 – 2 – 1 – 0 .. HAPPY NEW YEAR !!" . Confetti and champagne will make the avenue festive and sparkling! The future will tell us if there will be fireworks in Paris … You can also choose to participate in one of the many parties organized in the city: 80s, rooftop overlooking the Pont Alexandre III and the Eiffel Tower, Giant Aquarium Eve at Trocadéro … By clicking on this link, you will access the different parties proposed. The great Parisian cabarets open their doors all night for a special show. The Crazy Horse or the Moulin Rouge for example welcome you for dinner, fantastic show and dance party in an beautiful setting. A nice idea also is celebrating New Year's Eve on the Seine river aboard a cruise ship. Paris illuminated in the background, you will sail from one year to another smoothly and with music!
Hotel des 2 Continents will be happy to accompany you to 2019. Its quiet and comfortable rooms can accommodate a lonely traveler as a family of 4 or 3 friends in a triple room. Discover our rooms here and book your hotel for the New Year's Eve in Paris. From the legendary district of Saint-Germain-des-Prés, you can choose to walk, take a taxi, or the metro to got to your party. For New Year's Eve, several metro lines remain open all night, and the night receptionist of Hotel des 2 Continents will welcome you at any time. The blackout curtains and soft mattresses of our hotel will be a useful and deserved comfort after your crazy night in the City 😉